Welcome to The Hogan....a place where you can connect with beautiful
treasures for the eye and the spirit. Most of the items here are hand-made
and one of a kind, from fine art to bunnies and all stops in between. :)
There are some connections to things that have moved me greatly as well.
If you see something you're interested in and would like more information,
please write directly to the person who created it, or visit their web site
which has been provided for you. Enjoy yourself.
A true treasure trove from Mother Earth. Not just herbs for every
possible need, but essential oils, survival information, and things you never thought of....but should have. Contact Black Kat at: blackkat@Dekalb.net, or visit her great website by clicking on the kitty above.
OLD WEST SADDLE SHOP
Old West Saddle Shop is a custom saddle shop located in Espanola, New
Mexico on the Old Taos Highway. Here is a sample of what Dave
Matteson, the maker, can produce for the comfort of both you and your
horse. Custom orders a speciality. These saddles are 30 pounds or less,
rigged and ready to ride. Visit Dave's shop by clicking on the saddle, or
contact him directly at dave@saddlemaker.com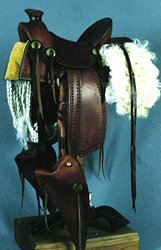 SEEGER'S ART
Sondra Seeger is clearly one of the best known fine artists on the Web,
and we are very pleased to have her as a member of The Hogan. Sondra does
special commission work, and one-of-a-kind fine art. Because her styles
and subject matter are so varied, two examples of her work are shown here.
Do visit her on-line studio by clicking on either sample, or contact her
directly at sondra@seegersart.com.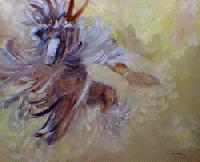 RABBITS FOR YOU !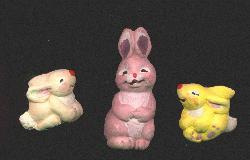 Everyone needs at least one rabbit. :) The beauty is you don't have to
feed and take care of these. Not having any fun? Pet a rabbit! Rabbit
people are mischievous and fun-loving. They play harmless pranks and
sometimes say outrageous things, but itís all in good fun and
everyone has a great time when a rabbitís in the group. Set of 3 rabbit
magnets, hand-painted in a variety of colors - $5.00 a set
plus $1.00 S/H Special orders are welcome. Contact RabbitTracks at
harkins@sky1.net
!Beautiful Creations!
Each piece is hand beaded, or hand crafted, from the mind and heart of Pam.
She has various sizes of many things, various styles, and can create in
any color you choose. Special gifts for yourself, or anyone.
Be sure to visit her site at http://members.xoom.com/plynnz.
It grows and grows all the time.
You can reach Pam at plynnz@codenet.net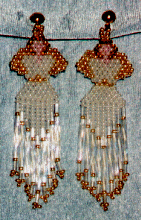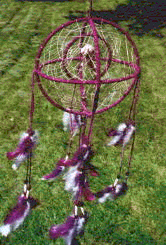 For The Children
Hours of fun for children from the magic hands of Art Palm.
A youngster approaching his 80's, his love for children is evident in each of his
creations. Each piece is hand carved from the finest wood with no sharp
edges or anything that could hurt little ones. The rocking horse is one
they can really ride, and is sure to be passed down from family to family.
All of Art's pieces are true collectors' items that will last and last.
Art has no web site, but you can contact him for further details at
maggiej2@snowcrest.net
MountainSpirit Productions
These designs are inspired by the American Indian creations of long ago.
Spirit Shields, Dream Catchers and other Native designs handcrafted by
Warrior of the Weeping Heart.
Visit the MountainSpirit Web Page or email:
mountainspirit@usa.net
This page created by:


Questions or problems should be referred to: ~ Annie ~