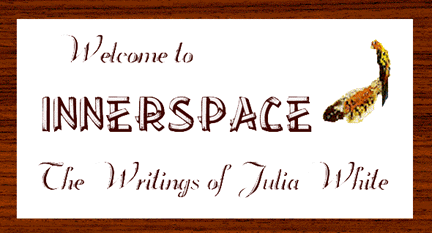 Your safe haven for
self-growth, self-awareness and inner exploration.
One of the most difficult tasks we undertake in life is the journey to exploring and understanding our personal spirits. Many are not willing to do this (which I call "spirit work") because it requires - in fact demands - a degree of honesty about ourselves that must be objective and revealing. That can be very scary and is always unsettling, for it will surely disturb mental attitudes, emotional responses and behavior patterns. If spirit work is used as a tool for helping us to be all that we are capable of being, we will never again look at ourselves, or our world, in the same way. Our perceptions will be forever altered. Will you join us in the journey into Innerspace?

Innerspace 1998 Retreat Schedule
The following is the retreat schedule for 1998. If you are interested in receiving more information on a gathering as it is developed, please drop me a note at meyna@mindspring.com, tell me which location you are interested in, and I will put you on the list for up-dates. If you are interested in attending one of the retreats, but have doubts as to what exactly goes on, please let me know. I'll be happy to put you in touch with one of those who attended a retreat last year who will be more than happy to answer any questions you may have. THESE ARE NOT NATIVE AMERICAN GATHERINGS. They are a coming together to learn many things, a time of sharing and growth, and the opportunity for fellowship and brotherhood. All are welcome.
September 18-20, 1998 Riverview Ranch, Bourbon, Missouri

Special Sharings from the members of the Innerspace Mailing List.

Julia's book on the history and customs of this old tradition. The most complete sourcebook to date on the Native American Pow Wow.

Lessons and Exercises to Help Increase Your Inner Understanding and Awareness. Fulfill Your Potential — Become ALL That You Can Be.

Selected by I-Way Magazine
as one of the Best 500 Sites
on the World Wide Web

A Look at the Lifeways of the First Peoples of the World
Selected as a valuable Internet resource for Discovery Channel School's Cities Through Time theme for spring 1997.

Honoring Native American Women of History

Our Woman Spirit web page on Susan La Flesche - Omaha has been selected for inclusion in the Lycos City Guide for Omaha, Nebraska.

No One Ever Walks Alone

Thoughts, feelings, ideas and memories which come from the heart.


Teachings from the Animal Kingdom for the Two-Leggeds You and Your Totems




Visit Julia's Other Web Sites
Banner by Virtual Visions



Banner by Web Dreams



| | |
| --- | --- |
| | Sacred Sage Broad leaf white sage is now available for purchase. This sage is harvested by Julia from the medicine fields in the San Bernardino Mountains of Southern California. It is gathered in the traditional manner with ceremony and tobacco offerings for the gifts of Mother Earth, and is wrapped by Julia and dried in Nature's sunshine. It is wrapped in 100% cotton thread so no toxic fumes are given off in burning. This is pure sage with nothing mixed in — there is no cedar or sweetgrass or any other plant wrapped with the sage. The cost is $3.50 per bundle, which includes packaging and mailing costs. The size of the bundles depends upon the size of the growth at the time of harvest. However, you will get good measure regardless of size. Please send check or money order to Julia White, 3285 Park Lane, Long Beach, CA 90807, with mailing address for shipping. This offer is extended to retail outlets as well. |

I am available for weekend seminars and workshops, and will travel to you if you have a group who would be interested in the teachings. For more details on how this works, feel free to e-mail me at any time.


LET THE JOURNEY BEGIN
Our counter says
light beings have started this journey.
| | | |
| --- | --- | --- |
| | All text is copyright ©1996, 1997, 1998 - Julia White - unless otherwise noted. All award and link logos are copyright to their respective owners. Credits for page art and animated gifs are available here. | |

Last Updated Saturday, March 07, 1998 11:39:55 PM
Innerspace logo by Virtual Visions
Woodgrain graphics by Plains Images
...