I am pleased to have you visit my humble contribution to the growing network of the Sisterhood and Brotherhood of the Wolf. Many who have never seen a live wolf, or have never had the opportunity to be in the presence of such mystery and magnificence, are drawn to the quiet power of this majestic animal. Those who carry Wolf Medicine feel the impact of this energy in their daily lives. They have a strong sense of family and loyalty; they are the explorers of new vistas and new knowledge; they have a responsibility to teach others, and they have a great need for time alone. For more teachings of the wolf, as given to me by the energy of the animal himself, visit Animal Walk here on Innerspace.
Below are gifts of great beauty which have been presented to me by members of this Wolf Pack, and I display them proudly. Each image will take you to the home of its creator, and I encourage you to pay them a visit. There is a great talent to be enjoyed and much knowledge to be gained. Your time will be well spent.
Below are my gifts to the members of the Sisterhood and the Brotherhood of the Wolf: Medicine Wolf and Mystery Wolf. I hope they speak to your spirit. Please capture your favorite for your pages.
| | |
| --- | --- |
| | In spite of all efforts to protect Brother Wolf, man is once again determined to hunt this animal to extinction. For critical information on this shameful problem, please visit the North American Wolf Association and learn what you can do to help. |

This link will take you to the directory of the members of the Sisterhood. Enjoy the beauty, and the spirit that speaks to you from these awesome pages.
To email Meyna: meyna@mindspring.com
Last revised April 8, 1998 - Original created Monday, March 09, 1998
Page designed and created by © 1998, Plains Images Co. - All rights reserved.
Page updated and maintained by Wicked Imaging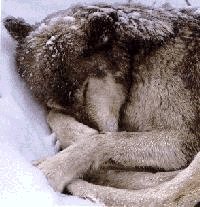 (photo courtesy of All Wolves)